"And thou shalt bind them for a sign upon thine hand, and they shall be as frontlets between thine eyes."
(Deuteronomy 6:9)
At Landmark Pentecostal Church, she was known as Sis. Fran. Sis. Fran was involved in every aspect that she possibley could be. She was always doing things to help and serve and of course cook, EVERYONE LOVED HER COOKING!!! However the thing that Sis. Fran was the most passionate about in serving was with teaching the Angel's Bible class, which was the infant and toddlers. While most people would think that they were to young to be taught, Sis. Fran saw this as an opportunity to start putting The Word of God into them from their very begining. She taught them to say Bible scriptures when they could hardly even talk yet. She would have singing time with them, with little instruments, teaching them to praise and worship God. Of course there was always snacks, a prize, crafts, which of course once again always had a Bible scripture on them.
♥
Posing with the now grown, Denae Abbott.
She loved those Angels, she was passionate about teaching them and literally taught them up until December of this past year, til she was physically unable to make it any longer to church. She always said that she wanted to teach them til she died and that is what she did.
Frances died loving people. Even just this past January, when some of the kids on the bus ministry outreach came to visit her in the rehab center she was staying, she was so happy to see the kids and she said that seeing them had made her whole night. She sang with them "I got the Holy Ghost!" Then she hugged them and told them that she loved them and gave money for them to all get Happy meals from McDonald's, and she said that she wanted to do that any time the kids came to see her because that was something that she could still do for them. Thats just the way she was, she loved people and no matter how dire the circumstances of their lives, she always saw the potential in what they could be. She would say,

you just never know which one of these kids will grow up to live for God.
"And thou shalt write them upon the posts of thy house, and on thy gates."
(Deuteronomy 6:9) Everywhere Frances went, she was always proclaiming the goodness of God. She was always ready to testify at church. Always giving God thanks for something. Always giving God glory for saving her and leading her to truth.
As time went by, Frances began to get weaker and weaker physically in her body, till one day she could no longer walk. She spent the last two years of her life basically bed ridden, yet, she never complained, she always tried to make the best of her situation. She did whatever she could from her room. She wrote cards and letters to people, she read books, she worked on craft projects to do with her Angels class, she even helped her grandaughter do class projects and to the best of her ability, she was STILL managing to cook from her room, even if it was vicariousley through her children but she would do would ever she possibley could from her room, chopping the vegetables, mixing the icing, seasoning the dish. Many, many times, she could be found going through piles and piles of recipes, finding new ones to try. She LOVED TO COOK! And when it came to her cooking, EVERYONE LOVED TO EAT!!!
As time went by, still bed ridden, she could hardly get herself in and out of bed anymore. During this time, Frances was also beginning to see these scenes of stuff happening before her eyes, almost like dreams, except she wasn't sleeping. She said they were always happy scenes of people that she had never met. Kids laughing and playing, a little girl in the kitchen or just random people doing stuff, but they were always smiling and always happy. she couldn't figure out who they were because they were not anyone that she reckonized. And as time went on she continued to get weaker and weaker till she could hardly stay awake anymore. On December 15th of this past year, Her children called 911 and she was rushed to the emergency room. As tests began to be done, she was quickley diagnosed with kidney failure. Frances was then admitted into the hospital to begin dialysis treatments.
Something amazing happened to Frances the second night she stayed in the hospital. At midnight her CNA came in to take her blood pressure. When they woke her up she was in absolute awe of something. She kept saying, "Its so beautiful! Its so beautiful! Someone take a picture! Its so beautiful! take a picture!" Then she began to wimper and cry. Her daughter asked her what was wrong and she said, I just saw a little part of heaven. She said it was so beautiful, exquisite yet indescribable, she just didn't have the words to express what she had seen, but she was in absolute awe. When asked what she had seen, the only thing she could actually describe was that she had seen smiling faces, she said everyone was just so happy! When asked how she felt after seeing it she simply said, "Like its REAL! It's REALLY REAL!!!"
.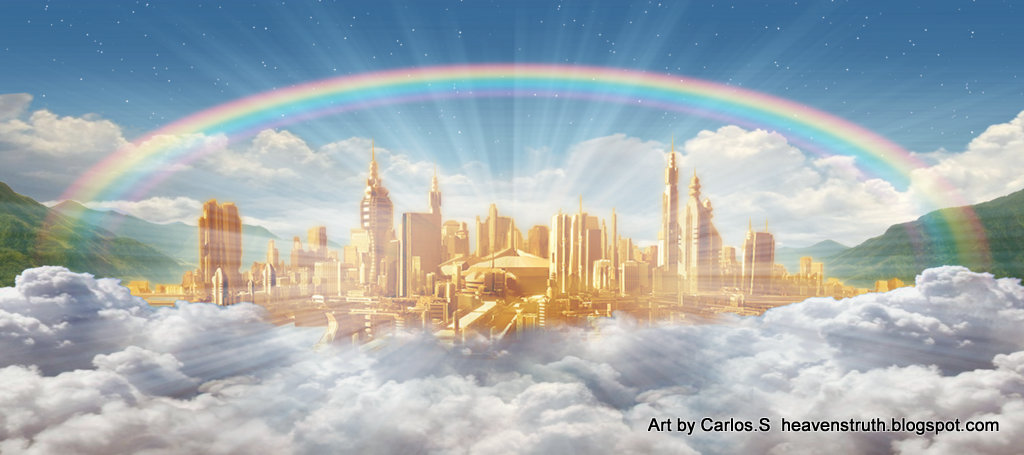 She said that she knew now who all the people she had been seeing in the scenes that had been flashing in front of her for the last little while. She felt like they were all people that had already gone to heaven and met Jesus face to face and thats why they were all so happy. Aside from being in awe of what she had seen, this also left Frances with an extreme longing in her heart to go to what she had seen just a little part of. She started crying because she strongly desired to go to heaven, yet, she didn't want to leave her family, knowing how much they would miss her if she was gone.
Wanting to do the right thing, Frances determined get her dialysis treatments and live to the very best of her ability. She began to get better and she got to spend one last Christmas with her family. They decorated her room with Christmas decorations, hauled all the traditional Italian meals up to her room at the hospital, yes including crabs and macoroni, which we're all pretty sure she's the only patient that was eating that on Christmas Eve. All the hospital staff would come in and comment on all the delicous smelling food in the room, of course Frances offered anyone that wanted to, to get a plate of food and join them. On Christmas, they had a huge family gift exchange in her room and some how, she had managed to STILL go Christmas shopping from her bed at the hospital and had gifts to give to everyone. It was a memorabal and unforgetable Christmas.
After Christmas, Frances was well enough to be released to a rehab center where she determined that she was going to try and get some of her mobility back. She couldn't wait to be back at home with her family. However, things did not go the way she or her family had planned and Frances was soon back in the hospital she had just left. She tried and tried to get better but she just contiuned to get worse. Due to a side effect from kidney failure, she had developed a horrible infection on her leg that was spreading to other parts of her body, outside and inside as well. Not sure what to do or where to go, Frances continually prayed, asking God for help and direction on what to do. "I'm depending on you Lord. Tell me what to do, I'm depending on you."
And on February 13th, God had let Frances know what to do. She told her eldest daughter Theresa, "I want to go home!" She asked her mom, "home to our house?" Frances said, "No, home with JESUS!" Some how, she just knew that it was time, God had let her know and after praying with her pastor and the elder pastor of her church, Frances said her goodbyes to family and loved ones. She was then brought back to their family home through hospice where she spent the last of her days surrounded by the family she loved so dearly. After missing only one dialysis treatment, early Wednesday morning, February 17th at around 4 am, Frances breathed one last breath and peacfully left this old world behind. Exactly two months after her vision of heaven on December 17th, Frances got to go to that which she had been so in awe of.
In this life, Frances experianced many healings, miracles, blessings, heartache, suffering and pain, but if you were to talk to her right now, all she would be mentioning to you is the goodness of God. If you said God bless you, she would always respond back with, "He already has!" It was always her pleasure and desire to be a servent of God.
Today Frances, a servent of God, has finally achieved that which we all desire to achieve. To hear the Lord say,
"Well done, thou good and faithful servant... enter thou into the joy of thy lord."
(Matthew 25:21)
Her grandson Joseph says its like a race and when you finally get to the finish line, thats when you've reached heaven. Frances made it to that finish line, she has joined all those happy people, she is now one of those smiling faces that she saw. Tho our hearts ache and we miss her so much, it's not good bye, its just see you later, we're still traveling to our destination, but we'll see you on the other side of the finish line, in that sweet by and by!
The end
♥Mary Frances :)