A while back I did an object lesson that I thought that I would share with you all, I had thought about doing it somehow as a devotional buuuuut I wanted you all to be able to use this in your churches as well to help encourage and inspire people!!!
What I DID: I laid money out, REAL money

(Don't be CHEAP!!! It's NOT as effective if you use FAKE money, so shell out the $20 in ones for the sake of Christ!)

around the front of the church, then I called on different adults that I had ALREADY talked to before church had started and told them what to say, AND I said to them, HEEEEEEEY! I'm passing out FREE MONEY today, all you have to do is come up here and find it, pick it up AND IT'S YOURS, would you like to come up here and get some money????
.
NOW who can resist an offer like that??? Only a VERY LAZY PERSON is going to be TO LAZY to bend over and pick up MONEY they see lying on the ground!!! Buuuuuuuuuut ONE BY ONE, each person that I called on gave me an excuse for WHY they didn't want to come up and pick up some of the money that was lying on the ground!!!
(Now once again, this was all PRE-planned out BECAUSE in actual REALITY, there ain't NO ONE in my church that would ACTUALLY say NO to this offer...bahahahaha!!!)
They were ONLY single, one dollar bills, buuuuut STILL, money is MONEY, right???? I WAS LIKE, WHAT IS WRONG WITH YOU PEOPLE??? HOW CAN YOU BE TO BUSY AND TO LAZY TO COME UP HERE AND PICK UP SOME FREE MONEY???
Of course ALL THE KIDS were screaming, I'll come get it, I'll come get it, I'll come get it!!! (I'm pretty sure IF I remember correctly, that I did pick out some of the kids in the end to come pick up the FREE MONEY) Buuuuuut I went on to explain in my lesson that THE BIBLE says,
"...I say unto you, Lift up your eyes, and look on the fields; for they are white already to harvest."
(John 4:35)
I talked about HOW there is a harvest of souls that are WAITING for us to come along and pick them up, bring them to church, tell them about Jesus. They are READY, ALL we have to do is just GO, we just have to look, we just have to find them, we just have to bend over and pick them up, it's so simple, BUUUUUT we're LAZY!!!
When we don't go out and find the harvest, we are being JUST AS LAZY as all the people that made up excuses tonight to not come up here and pick up the money off the ground. THE BIBLE SAYS,

"... The harvest truly is plenteous, but the labourers are few;"

(Mathew 9:37)
.
WHO in their right mind would be to lazy, to bend over and pick up money off the ground??? And if that's so, then how much MORE should we be willing to bend over and pick up the harvest of souls God has out there?!?!?!
"
Pray ye therefore the Lord of the harvest, that he will send forth labourers into his harvest."(

Mathew 9:38)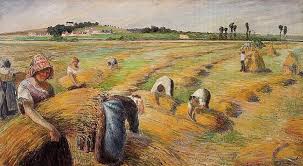 Lord, HELP ME,
NOT TO BE LAZY!!!
♥Mary Frances :)
P.S. I hope this object lesson/devotional can be a blessing in your church, if you use it, I would LOVE to hear about it!!! Maryfranceswriting@gmail.com God bless!!! (: