Sooooooooooo my sister had gotten me these ADORABLE glittery, Kate Spade sunglasses for Christmas last year!!! I gave her only like A MILLION AND ONE hints that they were what I really wanted! I was pretty sure she was going to get them for me, buuuuuuuuut I wasn't sure if she had gotten them, I searched her room and closet for them and could NOT find them...it was kind of a mixed feeling, cuz I WANT TO BE SURPRISED with my gifts, buuuuuuuuuuuut I also want to know, buuuuut I want to be surprised too!!!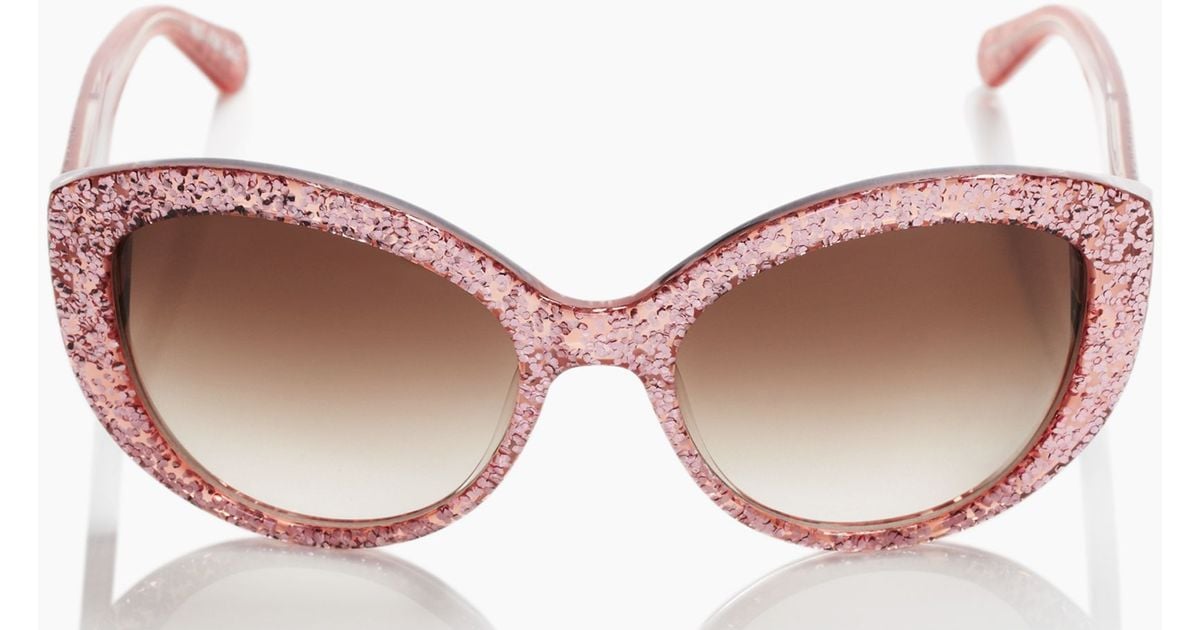 .
Anywayz, much to my dismay, I did NOT find them, soooooo I was SURPRISED on Christmas morning!!! YAAAAAAAYYYY!!! I looooove being surprised, buuuuuuuut I'm pretty much IMPOSSIBLE to be surprised, because I'm ALWAYS WATCHING and paying attention even when it seems like i'm NOT!!! I notice EVERYTHING!!!
.
Anywayz, I ADORE MY GLASSES!!! I've worked really hard with taking care of them and NOT losing or misplacing them!!! Every time I take them off, I carefully put them in their case!!! Weeeeeeeelllll the other day I was out shopping and I forgot to put them in the case before I got out of the car. Instead, I put them on top of my head and walked into Ross! I was on a hunt for a BLACK FUR VEST!!!
.
Well after trying on several things, and NOT finding what I was looking for. I headed back out to my car. I got in, put the keys in the ignition, started the car, started blasting my Jesus music(The Abbott's new CD, you guys NEED to get it!) As I'm bumping to my music about to back out, I reach on my head for my adorable-glitter-pink-gold sunglasses and gasp, they're NOT THERE!!!
I check the seat next to me,
I check the floor of the car,
.
I'm more than disappointed with them being missing, disappointed is when a kinda cute guy flirts with you one time, then ignores you THE NEXT TIME he sees you, that's disappointed!!! Buuuuuuuuuuut, life goes, ain't nobody got time to dwell on it...there's always more cute guys, buuuuuuuuuuuuut THIS, this is MY ADORABLE-GLITTERY-GOLD-PINK-KATE-SPADE-SHADES!!! They can NOT be replaced!!! (Okaaaaaaaaaay they can, put who wants to spend $90 on sunglasses???;)
.
I'm devastated!!!
ABSOLUTELY HEART BROKEN!!!
.
I'm about to get out and search the store, as I'm on my way out, I glance in the rearview mirror annnnnnnnnnnnnnnnnnnd WHAT DO YOU KNOW????
Yes, true story peeps, I couldn't find my sunglasses because, I WAS WEARING THEM!!!
MORAL OF THE STORY:
Next time your missing your sunglasses,
AHAHAHAHAHAHAHAHAHAAA!!!!
♥Mary Frances :)